Recognized Projects from Past Years of EMA 469/569
2012
ICEPLUME ICE PLUME is an acronym for "Investigating the Composition of Enceladus via Primary Lander and Underwater Microorganism Explorer." The mission concept is to send a satellite holding a lander and exploration proe to Enceladus, the sixth largest moon of Saturn. Using the satellite, lander, and surface probe, scientists will be able to explore this moon for signs of life in its subglacial oceans. ICEPLUME was designed by Alex Gonring, Capri Pearson, Samantha Robinson, Jake Rohrig, and Tyler Van Fossen.

Outstanding Student Oral Presentation 1st Prize - 9th International Planetary Probe Workshop, Toulouse, France.
2011
TESLA- A constellation of satellites to collect solar power and transmit it to a manned outpost on the lunar surface using laser beaming technology. This system of satellites will be designed to provide the power necessary to run a life support system for 8 astronauts (15 kW) throughout the duration of the lunar night: approximately 13 days, 15 hours. Project TESLA was designed by Collin Bezrouk, Zach Cheplak, Nick Koeppen, Courtney McCool, and Dan Rohe.
2010
BW-10- A blended-wing-body civilian transport aircraft that is designed to use algae oil as a bio-fuel source in order to reduce the environmental impact of airline travel. BW-10 was designed by David Aguilar, Brent Karlen, Scott Miller, Scott Sardina, and William Yu. BW-10 entered their design into two different contests:

2009-2010 AIAA Foundation Undergraduate Team Aircraft Competition
2010 NASA Environmentally Responsible (Green) Aviation College Student Challenge
HERMES- The Human Exploration and Reconnaissance Mission to EroS. HERMES is an astronaut transport system capable of safely delivering three astronauts to the asteroid 433 Eros and safely returning them to earth with soil samples. HERMES was designed by Ryan Eichberger, Marcus Fritz, Lisa McGill, Vanessa Peterson, and Jordan Wachs.
HERMES entered their design into the AIAA Undergraduate Team Space Transportation Design Competition.
LEVITATE- The "Lunar Exploration Vehicle for Intra-planetary Transport and Terrestrial Expansion" is capable of transporting and supporting two astronauts for up to fourteen days from a lunar base to any location on the lunar surface. LEVITATE was designed by Ben Conrad, Tim Feyereisen, Kevin Hart, Adam Koch, and Tyler Tallman.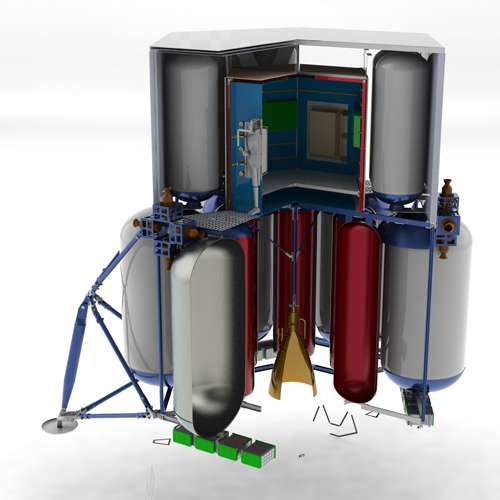 2009
Major Tom Lunar Cargo Transport- An unmanned lunar cargo transportation system with the purpose of supporting the construction and maintenance of a lunar base. Designed by Pete Penegor, Mai Lee Chang, Travis Marks, Miguel Gallego, and Miao Zhang.
Swift Racer- A twin-piston engine powered flying wing type aircraft designed to race at over 500 MPH in the unlimited class of the Reno National Air Races. Designed by Matt Hemke, Ryley Karl, Alan Klein, Matt Kuhns, and Mike Vioski.
Assistive Golf Chair- A golf cart mounted chair to enable people with limited use of their legs to play golf. Designed by Austin Kazda, Danielle Alling, Peter Penegor, Dylan Brown, and Amanda Blaschko.

UW-Madison Engineering Expo Undergraduate Group Exhibits- 3rd Place ($300)


2008


Lace Master- A machine that enables an injured or disabled person to tie their shoes tightly with just one hand. Designed by Ross Borchardt, Leah Holmes, Jacob Mikulsky, Dave Moseler, and Mike Vioski.

Schoofs Prize for Creativity- 4th Place ($1000)
Tong Prototype Prize- 2nd Place ($1250)
Patent Awarded (#7,841,631)

Runway Rescuer- A device to quickly remove aircraft with flat tires from the runway. Designed by Becky Broberg, Zach Courter, Dan Kuehn, Peter Shafe, and Rob Wilson.

Schoofs Prize for Creativity- 2nd Place ($7000)
FAA Design Competition for Universities Runway Safety/Runway Incursions Challenge- Honorable Mention

Safesled- An inflatable sled for evacuating people with physical disabilities during an aircraft emergency.

Sorensen Design Notebook Award ($1000)- Matt Kuhns


2007


BugsTOP- A pond surface agitator that prevents mosquito breeding. Designed by Paul Grogan, Kevin McMullen, Mike Tupek, Ryan Larson, Jacob Notbohm, and Colin VanDercreek.

Schoofs Prize for Creativity- 3rd Place ($4000)

Ladder CAT- A device for safely lifting loads up the entire span of an extension ladder. Designed by Dan Goesch, Elliot Haag, Logan Hamel, Mick Sracic, and Dave Tengler.

Schoofs Prize for Creativity- 2nd Place ($7000)
Tong Prototype Prize- 1st Place ($2500)
Schoofs-Tong Innovation Days- Younkle Best Presentation Award ($1000)
Sorensen Design Notebook Award ($1000)-Mike Sracic
Patent Awarded (#8,074,769)


2006


Buoyant Venus Descender- A platform for scientific study of the high temperature, corrosive, and windy middle atmosphere (~55km) of Venus designed to survive and collect scientific data for a minimum of two weeks. Designed by Angie Franzke, Christina Modl, Trevor Nesbitt, Benjamin Regner, and Emily Prewett.

Invited to and Presented at the AIAA Balloon Systems Conference 21-24 May 2007, Williamsburg, VA. See AIAA Publication 2007-2634 for details.

Hand Righter- A device that makes it easier for people who suffer from a variety of hand tremors to grip and write with a pen or pencil. Designed by Emily Prewett, Jesse Gudmundson, Brian Shanley and Brian Boeckmann.

Schoofs Prize for Creativity- 4th Place Tie ($1000)

Self Leveling Wheelchair Table- A stowable working surface for wheelchairs that self-levels, even when the wheelchair is tilted or reclined up to a 45-degree angle. Designed by Garret Fitzpatrick, Jon Oiler, Angie Franzke, Peter Kohlhepp and Greg Hoell.

Schoofs Prize for Creativity- 3rd Place ($4000)
Tong Prototype Prize- 2nd Place ($1250)


2005


Aqua Skimmers- A human powered recreational device used to walk on water. Designed by Mark Street, Jonathan McCabe, Justin Biesboer, Trenton Kirchdoerfer and Augie Salick.

Tong Prototype Prize- 3rd Place ($700)

Baseboard Booster- A collapsing stool that fits in the space behind the baseboard of a cabinet. Designed by Lynn Daul, Ben Jaeger, Mark Webb, Dominic Kasten, and Natalie Meagher.

Schoofs Prize for Creativity-2nd Place ($7000)
Sorenson Design Notebook Award- Lynn Daul ($1000)


2004


Ice Net X- A retractable net that enables ice fishermen to easily hoist large fish through relatively small holes. Designed by Nick Passint, Joe Cessna, and Bryan Wilson.

Schoofs Prize for Creativity- 1st Place ($10000)

S-BMX Conversion Kit- A conversion kit that quickly transforms BMX-style bicycles into downhill skiing machines for the extreme sport ski-biking. Designed by Eric Schroeder, Mike Guthrie, Aaorn "Sonny" Nimityongskul, and Luke Henke.

Schoofs-Tong Innovation Days Best Presentation ($1000)


2003


Personal In-Flight Exercise Equipment (PIFEE)- Inspired by several recent lawsuits against airlines, PIFEE is a simple exercise device that enables the user to stimulate the lower-leg muscles during long airline flights to prevent blood clots in the legs. Designed by Brent Schultz, Mark Schumacher, Stephanie Wysocky, Chris Wessing, and Jennifer Rutt.

Schoofs Prize for Creativity- 4th Place tie ($1000)

Wing Nut- An adjustable passive protection device used in rock climbing. Designed by Seth GaleWyrick, Chester McDonald, and Travis Wiltzius.

Schoofs Prize for Creativity- 2nd Place ($7000)
Tong Prototype Prize- 2nd Place ($1250)
---
University of Wisconsin-Madison Department of Engineering Physics
Madison, Wisconsin
Revised: 1/2/2013