Automatic Goalie Trainer
Designed by: Austin Gilbertson, Austin Lemens, Dan Mueller, Nate Rogers, and Dave Suehs
The Automatic Goalie Trainer(AGT) is the complete hockey goalie training device. The AGT shoots puck after puck across the full span of the hockey net providing unparalleled accuracy and optimum goalie reaction time.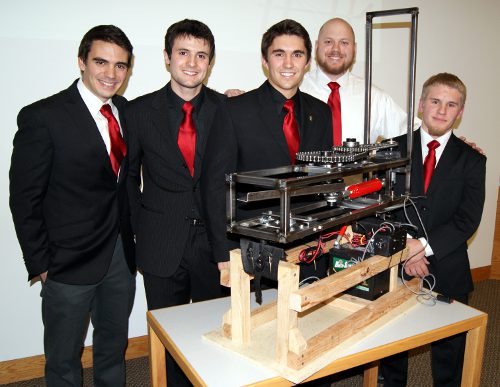 ---
The Badger Sett
Designed by: Lyndsey Bankers, Grayson Butler, Joe Jaeckels, Julie Mason, and Katie Wichman
The Badger Sett is an interim housing unit designed for a family of four to live in for one month after a disaster occurs. The shelter is completely inflatable which makes it lightweight, compactable, and easy to set-up. Heating, cooling, and electricity will allow the occupants to have comfortable living conditions at a lower cost than other situations. The Badger Sett team would like to thank
Baraboo Tent and Awning
for their assistance manufacturing the prototype.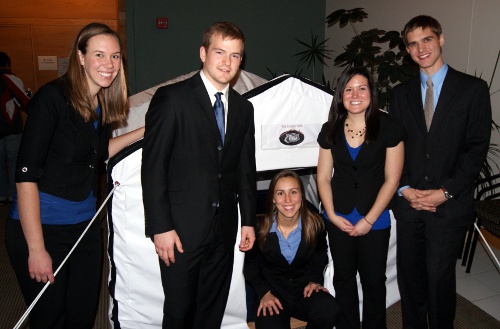 ---
b-Doc
Designed by: Nawaf Al-Baghly, Sam Hickinbottom, Sean Kelley, Nick Pergal, and Aaron Wells
b-Doc seeks to create a self locking bicycle docking station to eliminate the need for cyclists to carry locks. This secure station will reduce the outward messy appearance that parked bicycles produce on traditional racks and encourage bicyclists to make quick stops at retail establishments. At the core of the design, b-Dock adheres to two principles: simple and secure.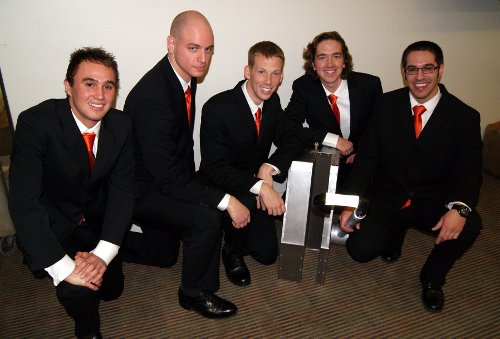 ---
Debris Free WisCanopy
Designed by: Brandon Block, Trevor Hunt, Sam Moffatt, Kevin Rooney, and Noah Rotter
The Debris-Free Wiscanopy prevents leaves and other debris from falling into an above-ground pool. The design is composed of four support poles attached to the pool which are manually raised and lowered. The net canopy system is raised and lowered to a height of ten feet via motors.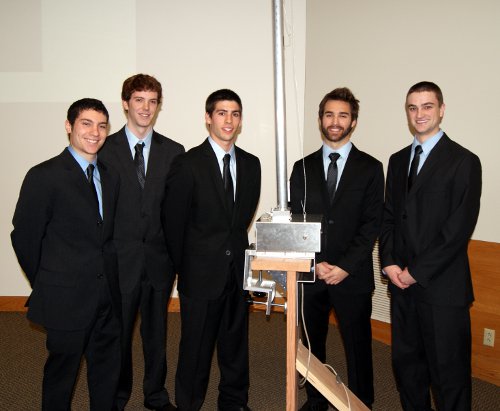 ---
The Ladder Buddy
Designed by: Patrick Bersch, Mario Dibendetto, Dan Koehler, Kevin Mackstutis, and Mark Ruff
The Ladder Buddy is a ladder attachment that will lift objects on a platform to any desired height along the side of a ten-foot, type IAA, 375 pound, fiberglass ladder. The design provides a safer and more compact alternative to current products in the mark. The system will attach a lift mechanism as well as additional support legs to the ladder.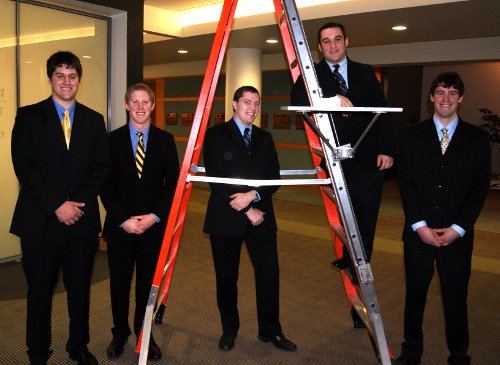 ---
Motustand
Designed by: Alex Gonring, Ryan Knippel, Capri Pearson, John Retzler, and Jake Rohrig
The Motustand is a fully collapsible music stand. The stand head will fold up and all other sections will telescope inside each other, making the Motustand both durable and portable.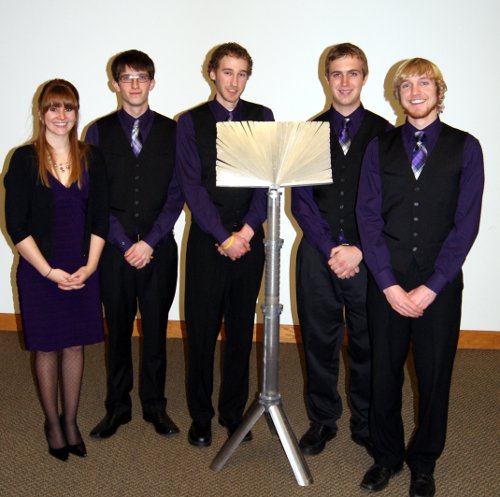 ---
Ski Sherpa
Designed by: Nur Nasirudin, Julian Neri, Ashank Pai, Michael Spanel, and Hong Xu
The Ski Sherpa is a ski brake that keeps a beginner or intermediate cross country skier from sliding backwards down hills that they are climbing when they get tired. The Ski Sherpa has a method of quickly engaging or disengaging the braking mechanism while on the go, and can be easily removed from the user's skis.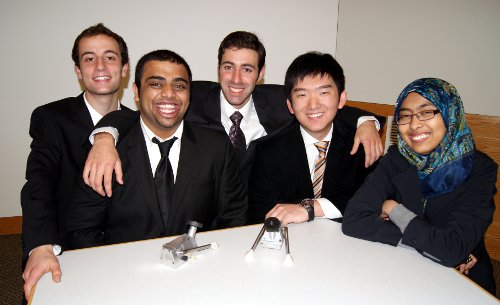 ---
Windgeen
Designed by: Parry Carrison, Michael Regner, Joshua Thao, Joe Vosters, and Jefferey Yao
Windgeen is a helical wind turbine that aims to provide an opportunity for smaller investors in green energy. Windgeen is combined of the two helical turbine design, incorporating both drag and lift based wind blade and true self starting. The Windgeen turbine will be able to operate at a wide wind speed region, providing as short as a five-year turnaround in investment even in the mid wind domain.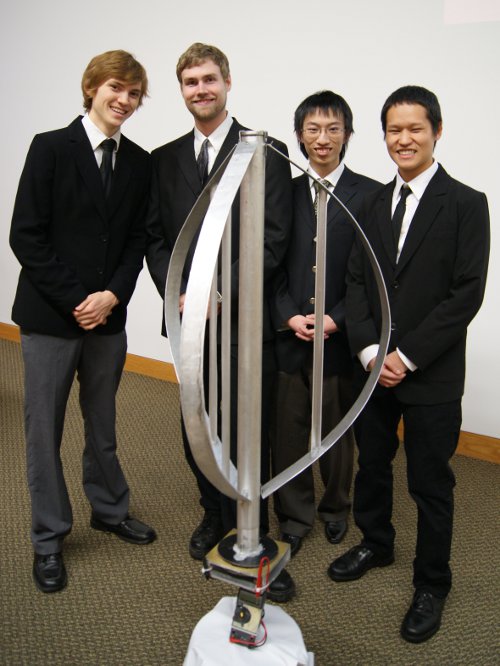 ---
University of Wisconsin-Madison Department of Engineering Physics
Madison, Wisconsin
Revised: 12/15/2011