Badger X-Loft: The Team
The UW-Madison X-Hab team consists of a number of students, professors, and industry representatives with a wide range of backgrounds and experiences.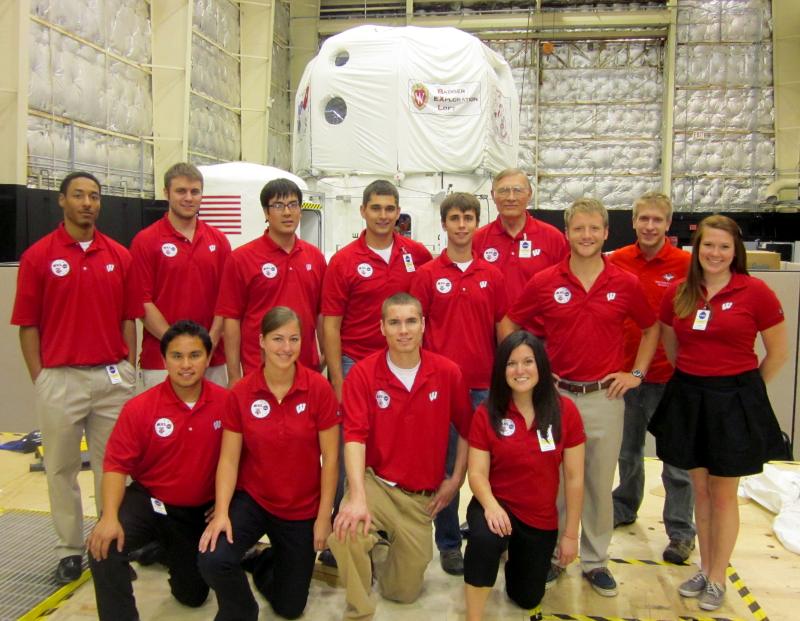 The Badger X-Loft Team in Houston. In the background, the deployed prototype sits atop the NASA Habitat Demonstration Unit. Clockwise from top left: Aaron Olson, Marcus Fritz, Nathan Wong, Jordan Wachs, Mike Lucas, Dr. Frederick Elder, Sam Marron, Max Salick, Ariel Arnson, Julie Mason, Peter Sweeney, Nicole Roth, and Will Yu. Not Shown: Tim Feyereisen, Steve Wisser
Students from many departments on the UW-Madison campus including Engineering Mechanics, Mechanical Engineering, Textile and Apparel Design, and Finance are joining forces in order to guarantee a variety of experience and expertise.
We are grateful to have the assistance, resources, and experience of the
UW-Madison Space Science and Engineering Center
as an invaluable addition to our team.
Team Members
Frederick Elder

Advisor, Principal Investigator

BS, MS and PhD degrees in Mechanical Engineering
Experience:

Adjunct Professor at the University of Wisconsin-Madison in Mechanical Engineering and Engineering Mechanics
Registered Professional Engineer in Wisconsin and Kansas
Expert witness in several courts, including Dane County Circuit Court and Federal District Court in Madison, Wisconsin
President Frederick T. Elder & Associates
Richard S. Pappa

NASA Technical Expert

Education: B.S. (1972), M.S. Mechanical Engineering Rose-Hulman Institute of Technology in Terre Haute, IN.
Mentor for Aaron Olson from Sept 7-Dec 17, 2010.
Has worked at NASA Langley Research Center (LaRC) in Hampton, VA for 32 years (28 yrs in the Structural Dynamics Branch/Research Directorate and 4 yrs in the Structural and Thermal Systems Branch/Engineering Directorate).
Leader of LaRCís multi-disciplinary Expandable Structures Team.
Technical interests: Ultra-lightweight and inflatable space structures, structural analysis, loads & dynamics, advanced concepts for space structures.
Fred Best

Technical Consultation and Support

Education: BS Engineering Physics (Mechanics) 1978, UW-Madison
Experience:

Technical Director at UW-Madison Space Science and Engineering Center
Lead Mechanical Engineering of the Hubble Space Telescope High Speed Photometer and the Diffuse X-ray Spectrometer (STS-54)
Instrument developments include: Atmospheric Emitted Radiance Interferometer, High-resolution Interferometer Sounder, Scanning HIS, Geostationary Imaging Fourier Transform Spectrometer
Co-Investigator under a NASA Instrument Incubator Program grant for an upcoming climate benchmark mission called CLARRO
Randy Iliff

Systems Engineering Consultant

Education:

B.S. Engineering / Industrial Design, Michigan State University
M.S. Systems Management, Research and Development, University of Southern California
Honorary Fellow appointment, UW-Madison Antarctic Astronomy and Astrophysics Research institute

Experience:

McDonnell Douglas Advanced Design Group - hypersonic aircraft and missile systems
Helped clients such as Motorola, Honeywell, Qualcomm, and many others to plan, establish, refine, and confidently execute products ranging from single product subsystems to entire product families
Tim Feyereisen

Graduate Assistant

Education:

B.S., Engineering Mechanics (2010)
M.S., Engineering Mechanics (May 2011)

Four year varsity swim team athlete
Interests: Reading, Politics
Research: Hibernating Turbulence in Polymer Solutions
Max Salick

Graduate Assistant

Major:

B.S., Engineering Mechanics and Astronautics (2008)
M.S., Engineering Mechanics (2010)
Ph.D., Materials Science (2013)

Experience:

Several semesters as teaching assistant of engineering design courses
Conducting research on bio-mimetic hydrogel materials for regenerative medicine
Advisor of Tau Beta Pi Engineering Honor Society
Leader of Engineers Without Borders Ė Haiti Irrigation Canal project
Guitarist/vocalist of local progressive rock band

Interests: engineering, teaching, research, live music performance, reading, volunteering, dogs
Ariel Arnson

Major: Textile and Apparel Design
Hometown: Delafield, WI
Interests: Clothes, Shopping, Walking in the woods
Future: Hopes to open a boutique
Marcus Fritz

Major: Engineering Mechanics-Astronautics (May 2011)
Hometown: Rhinelander, WI
Why Iím Doing X-Hab: I find the field of space development fascinating and would like to be as involved as I can.
Interests: Swimming, Snowboarding, Tennis, Movies
Michael Lucas

Major: Engineering Mechanics-Astronautics (May 2011)
Experience:

NASAís 2010 Microgravity University
WSGC High Altitude Instrument Development Program

Interests:

Focuses in thermal and structural analysis
Joined Badger X-Loft project to augment real design experience

Future: Aspirations for Engineering position in Aerospace Corporation or NASAís JPL facility
Sam Marron

Major: Engineering Mechanics-Astronautics (December 2010)
Hometown: Saint Paul, MN
Future: Graduate Degree in Aerospace Engineering
Interests: billiards, motorcycles, and soccer
Julie Mason

Major: Engineering Mechanics-Astronautics / French (May 2012)
Experience: NASA internship
Passion: Becoming an Astronaut, Space Advocacy
Future: Aerospace Engineering, Graduate School
Aaron Olson

Major: Mechanical Engineering, International Engineering
Hometown: Madison, WI (Born in Kikwit, DRC)
Experience: NASA Academy, NASA LARSS Internships, ISAE (French Aerospace Institute)
Interests: Space Exploration, Entrepreneurship, Sports, Philanthropy
Future: Graduate School, Work with NASA and the International Space Industry
Nicole Roth

Major: Finance, Investment and Banking / Economics (May 2011)
Hometown: Plymouth, MN
Future: Plans to work in the financial industry after graduation
Interests: the stock market, rugby, traveling
Peter Sweeney

Major: Engineering Mechanics-Astronautics (May 2012)
Hometown: Oshkosh, WI
Interests: going to his cabin in Eagle River, WI, traveling, and boating
Future: Plans to work in the space industry after graduation
Jordan Wachs

Major: Engineering Mechanics-Astronautics / Physics
Hometown: Eau Claire, WI
Future: Graduate Studies
Interests: climbing, hiking, traveling
Steven Wisser

Major: Engineering Mechanics - Astronautics, Certificate in Business (May 2011)
Hometown: Bloomington, MN
Future: Work in Automotive or Aerospace Industry
Interests: Computer-aided design techniques, new product design
Nathan Wong

Major: Engineering Mechanics-Astronautics (May 2011)
Hometown: La Crosse, WI
Nathan has worked three terms in the space industry and it has become his passion. The Badger X-Loft Project is a perfect culmination to his undergraduate degree.
Will Yu

Major: Engineering Mechanics-Astronautics (December 2010)
Hobbies: Frisbee, Soccer, Skydiving
Future: Aerospace Engineering Graduate School
---
Proposal Assistance
---
University of Wisconsin-Madison Department of Engineering Physics
If you have any questions or comments please feel free to email us at elder@engr.wisc.edu.
Madison, Wisconsin
Revised: 7/11/2011